Your Survival Food Stock Should Consist of a Mixture of Ingredients and Prepared Foods
If you have ever paid attention to the news after a disaster such as hurricane Katrina, you know one of the first things that happen is grocery stores are swamped or invaded and within a day or so all the food is gone. Many times the damage to the infrastructure either closes roads, or electricity is knocked out so refrigerators or freezers can't run, therefore even if stores could get more food they may not have any way of operating for a few days or even weeks. 
You don't want to be caught in this type of situation where you are struggling to find and secure food for your family. All it takes is a little planning and educating yourself on the best types of food to purchase and store so you can feed your family for however long it takes to get things back to normal. Here are some very basic necessities that will go a long way to help you get prepared and give you some piece of mind with your survival food stock.            
                                                                                                                                                                                                                          Photo courtesy of sideshowmom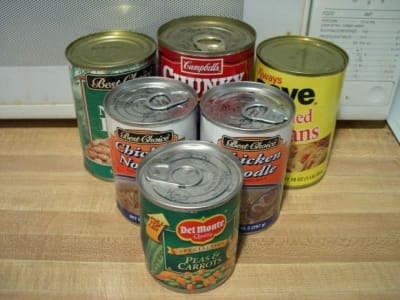 1. Wheat. Once ground, it's the building block for varieties of bread, tortillas, flat bread, pizza crust and more. I've stocked
up on hard red wheat for hearty breads, general purpose hard white wheat, and soft white wheat for pastries.

2. Rice. On its' own, it's a side dish. Mixed with herbs and a vegetable or two, it's a simple main dish. It's a great meal-stretcher when topped with, or served alongside, main dishes such as a stir fry. Note: brown rice contains oils which will become rancid after six months or so.

3. Dried milk. Without electricity, fresh milk will go bad in hours. In an emergency situation, fresh will be difficult to come by unless you own a cow or a goat. Dried milk provides not only milk to drink, but milk to use as an ingredient in other dishes.

4. Salt. Stock up on table salt or sea salt at your local Costco. It's inexpensive and has multiple uses.

5. Beans. Buy canned beans and dry beans in different varieties. Versatile, economical and a good source of fiber.

6. Tomatoes. Canned tomatoes, tomato sauce, tomato paste, tomato puree, etc. Watch for them on sale and then grab a few dozen cans. They're the basis for salsas, soups, stews, and sauces.

7. Other canned veggies and fruit. These will help provide important nutrients, variety to your recipes, and have a very long shelf life. If you can't stomach canned veggies, try dehydrating your own or purchasing freeze-dried.

8. Peanut butter. High in protein, yummy on warm, freshly made bread! Add some honey and you have a winner!

9. Oil. Without oil, you're pretty much stuck with boiling your meat and veggies.

10. Dried pasta. Another meal stretcher and a kid-pleasing dish any day of the week. My own kids have been known to dip bow-tie pasta in ranch dressing.

11. Sugar and honey. Okay, that makes eleven, but I've known women who were ready to kill when deprived of sugar for too long!
To see the rest of this article you can go here:  http://thesurvivalmom.com/2009/09/03/top-ten-foods-for-stocking-up/
Prepping and Tactics for Your Survival Food Storage
There are some definite advantages as far as survival food stocks when deciding on ingredients vs. prepared foods.
By stocking up on ingredients, we can not only increase the shelf life of the survival food we purchase but get more flexibility in the types of food we can have at our time of need. It also requires less space to stock bulk foods versus packages of prepared foods. Naturally, a combination of different types of foods is the best suggestion because there will be times when prepared foods will come in handy when in a hurry or you just don't feel like putting something together.
Stocking up on wheat, sugar, salt, rice, spices, and other basic ingredients allow us to combine them to make hundreds of different dishes. This step requires a bit more of an investment since a bucket of wheat will cost much more than a loaf of bread or two, but when you figure all that wheat will make dozens of loaves and can last for decades, it's obvious that the wheat, not the store-bought bread, is the true bargain.

Ideally, your food storage will consist of three layers.

1. Grocery store food. Generally easy to prepare, which could be important in emergencies. Open a can, heat up the contents (or not), and dinner is served! The downside is that these foods are usually not packaged for long-term storage and often contain excessive salt, high fructose corn syrup, and other additives.

2. Ingredients purchased in bulk. Yes, putting these to use will require learning how to cook everything from scratch, but you'll end up with healthier, less expensive meals in the long run.

3. Freeze-dried foods. Freeze-dried entrees, such as spaghetti with meat sauce or chicken teriyaki, require only the addition of boiling water. Because they're so lightweight and easy to prepare, they're ideal to stock for emergency evacuations and power outages. A variety of freeze-dried fruits and veggies are handy for everyday cooking but especially to insure your family has a supply of produce, long-term. Check out Kellene Bishop's review of freeze-dried foods by different manufacturers here.
To learn more about this topic, you can see the original article by going here:  http://thesurvivalmom.com/2010/04/11/instant-survival-tip-ingredients-vs-prepared-foods/
A great item to think about as a survival food item is hearty versatile soups.
I have always found soup to be such a pleasing and easy way to provide a variety of flavors and health benefits. The great thing about soup is you can prepare a fairly large quantity at once and have it as a leftover meal by just pairing it with some bread or even a piece of fruit. Many soups can be frozen and then thawed easily to make a quick meal.  With the variety of soup recipes available, just about everyone's tastes should be easily met.
                                                                                                                                                                                                                                                                                        Photo courtesy of vilhelm
If we have dried survival foods on hand, we can make our own soups today using dehydrated foodssuch as powdered milk, powdered butter, dried tomato powder, freeze-dried meats, vegetables, bouillons, pastas and simple pantry items such as flour, salt and pepper.

The following simple soup recipes came from the cookbook Cookin' With Home Storage. The soups are made with dried or dehydrated ingredients that can be stored for 15 years and used, if needed, in an emergency situation. I use dried vegetables for everyday cooking because the food doesn't go to waste like fresh produce. You can use small amounts and store the rest.

Dried foods are the next best thing to fresh and are highly nutritious. They come in 1-gallon sized cans that take up one-third the space of wet-packed food. They have a long shelf life, and all you do to reconstitute them is just add water. I suggest you purchase a variety of all these items for soup making.

Basic Dried Soup Ingredients

♦Bouillon: beef and chicken
♦Tomato powder
♦Dried vegetables: such as broccoli, bell peppers, green beans, corn, carrots, celery, mushrooms, potatoes, cabbage, peas and onions.
Grains and legumes: barley, rice and beans
♦TVP (textured vegetable protein): chicken- flavored and beef-flavored.
♦Pasta
♦Spices: salt, pepper, parsley, garlic powder, onion powder, chili powder and others.
♦Dairy: butter powder, powdered milk.
To get more information on survival food storage and some additional soup recipes, access this link:  http://personalliberty.com/2013/06/24/survival-soups-for-hard-times/